The Apple iPad, the long-accepted king of the newly minted tablet computer market, is a tool capable of a surprising number of functions and processes, and while the wait for a worthwhile app was a long one, graphic and photo editing is one of them!
Where graphic designers were once tied tightly to their desktops and notebooks, the release of Adobe's full line of Photoshop iPad apps has broken those chains by allowing designers to create and edit their work on the go. While the obvious limitations a tablet computer presents won't have you uninstalling Photoshop CS6 on your main computer system any time soon, Adobe's Photoshop apps offer a surprising array of functionality.
Interested in taking your work with you on vacation? These five Photoshop iPad apps for working out of the office will keep you working hard - while hardly working:
The main Photoshop presence on the Apple iPad comes in the form of Adobe Photoshop Touch, a moderately full-featured app that gives users the ability to create from scratch or manipulate existing images on the go. The designers of this app made a strong effort to include as much as they could, and the finished product gives the impression that every inclusion possible, considering hardware restraints, was made.
Besides core features such as layers, an array of selection tools, AirPrint, a large library of supported fonts and more, Photoshop Touch takes things a step further by implementing capabilities possible only on an iPad; the best example of this is the unique camera fill option, a feature that allows you to use the iPad's built-in camera to create and add content to a project on the fly.
Best of all, projects created in Photoshop Touch are instantly compatible with Photoshop CS5 and CS6, allowing you to save feature-intensive aspects of your project for when you return to your main workstation with no hassle involved.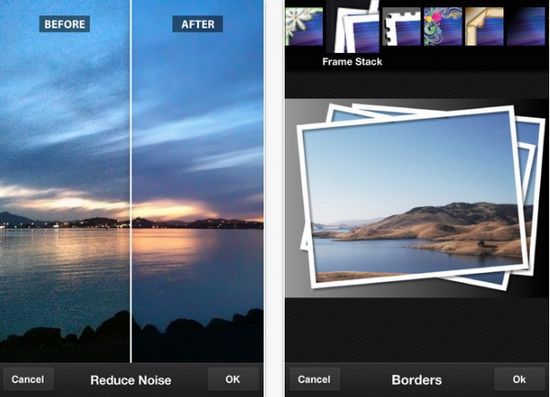 Aimed at photographers, Adobe Photoshop Express for the Apple iPad gives you the ability to quickly edit and share images while on the go, all by using a series of intuitive gestures and swipes.
Adobe built the Photoshop Express app as a direct companion to its relatively new Photoshop.com offering, an online suite of tools that allows for creation and editing of even complex projects in Adobe's cloud. This app utilizes the power of that cloud to give Photoshop Express a zippy and responsive feel, making possible an array of editing options, including the basics of cropping, flipping and rotating as well as more complex features like exposure and saturation settings, filters, a library of cool effects and much more.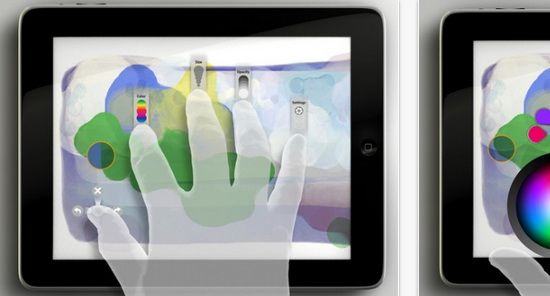 Potentially more suitable for children looking to express themselves than professionals looking to build complex graphics, Adobe Eazel for the iPad offers a simple finger-painting interface that allows you to build images using only finger movements; while it sounds simple, the possibilities are only as limited as your imagination!
Whether used to keep the kids busy or to sketch out an idea for your next work of art, Eazel offers a simple and easy-to-use package that is unmatched in its niche.
While not exactly a standalone tool to keep you working holidays, Adobe Nav offers unique functionality that can be utilized at home or on the go. Turning your iPad into a Photoshop toolbar, Nav allows you to connect to your computer in order to use the additional interface to manipulate tools and select documents, leaving your main screen to be used exclusively for your design efforts.
The last of Adobe's Photoshop offerings for the iPad is Adobe Color Lava, a unique color-mixing app aimed at helping find the perfect hue for you. Lava lets you mix colors, blending and meshing until you come up with the perfect swatch, then offers a one-click ability to send that swatch to your main Photoshop computer for future use.
About Guest Author
Jessy is the Photoshop amateur and creative blogger for Dobovo, the source for Kiev apartments in case you plan a Christmas trip to Europe this year!